Hi,
I run a website called Hertfordshire Walker that has 190 free walks in the Hertfordshire countryside. Each walk contains a GPX file created on MapHub. However I am finding a couple of issues.
If people download the MapHub GPX file from my site (it's under the top static map image on each walk), they get two versions. How do I avoid this? As far as I can see I have created one version only.
Here is the latest walk as an example. See screenshot below of what happens when I try to open the latest walk in Komoot. I contacted Komoot and they said it's because the GPX contains multiple versions.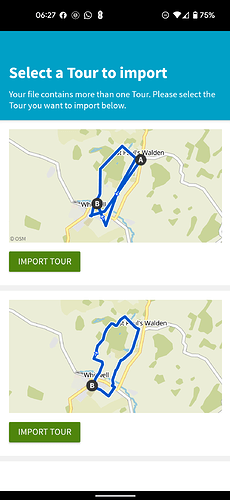 The GPX files for the walks often won't open in the OS app. I get the error message "sorry we are unable to upload your route".
Any help appreciated. I tried going through the 'versions' for each of my routes on MapHub but couldn't figure out how to reduce them to just one.